There is a good reason most local marketing companies that provide web design in Houston use WordPress.
First, we live in a world without paper records. Instead, everything from writing a personal letter to conducting a business meeting online. Online and right in the comfort of your office or even the living room.
In many ways, technology has revolutionized our lives. Changing how we do things and how things get passed from one person (or one point) to another.
Web Design and Business Marketing
Whereas people in the old days marketed door-to-door and sent flyers and brochures by mail, marketing is now online. Online citations, the reference area where people contain their business name, address, and phone number, have increased in popularity. Especially for those interested in getting their feet wet in the local markets.
Moreover, the change continues after business marketing. Customers are changing the way they access new products and services. Because more and more customers are going online to read information, research, and make purchases. Businesses today are still looking for more than just an office or a store. Local websites have become the new office for customers to acquire information. As well as the new store for shopping and the new flyer for spreading the word.
Starting Web Design Houston By Finding The Right CMS
Suppose you are thinking about starting a website. In that case, you will need a hosting company, a domain, and a great content management system. Coding, design, and other web techie stuff can come later. However, on an elementary level, you must create and register a domain name. It would help if you found a host like Bluehost or GoDaddy. Lastly, a content management system is necessary to manage your content seamlessly.
Ultimate Web Design Houston CMS
Now that you know the basics of CMS. You may be scratching your head and wondering where to find a CMS that works for you. If you are interested in an excellent CMS that is easy to use, flexible, and affordable? Look no further than WordPress.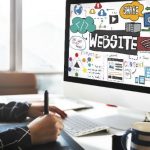 WordPress is a perfect content management system for anyone who wants to start a blog or a business website. It has millions of users and enjoys welcoming an average of 50,000 new users daily.
Currently powering over 25% of websites, WordPress offers excellent customer service around the clock while providing an optional premium plan to further your web customization.
Here are some more reasons why WordPress is your perfect CMS:
WordPress Offers a Clean, Organized Interface
Login into WordPress is like login into your email. All you must do is sign in with your username and password. Once logged in, you are re-directed to your Dashboard, your website's administrative center. Then on your left, there will be a menu. So, you can easily navigate to your destination.
WordPress Makes Content Management Nice and Simple
Content management on WordPress works very similarly to your typical Word document. If you want to create a new post, click on the "Post" section of the menu. If it is a new web page, choose "Page" instead. It cannot get simpler than this! After you have entered your content creation page. You will have a text section to type and edit your content. The familiar customization of bolding, italicizing, and underlying is available at your disposal. You can add images to your text to make your page or post more attractive. Like your Word document, you can save your content as a draft or publish it immediately. There is also a preview button to see your content in its printed form.
Beautiful Web Design Houston TX WordPress Projects – Fast & Easy
Models are a pre-programmed web structure that gives you the essential elements a website needs. WordPress offers free and premium templates to create a fantastic website. The templates are called themes. If you want additional features, WordPress also provides several great plugins.
Another story is creating a website with the best web design Houston SEO techniques. WordPress is your ideal CMS because it provides support, technical stability, and a friendly community for you to thrive, connect, and grow. However, WordPress makes everything more straightforward with its technology and support.