There is a good reason most local marketing companies that provide web design Houston services use WordPress. First of all because we live in a world where information access and distribution are no longer made through paper. Instead, everything from writing a personal letter to conducting a business meeting can be done online. Online & right in the comfort of your office or even living room! In many ways, technology has revolutionized our lives. Not only changing the way we do things, but also the way things get passed from one person (or one point) to another.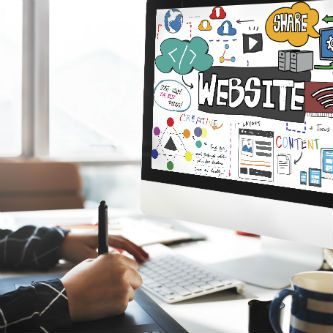 Web Design & Business Marketing
Whereas people in the old days market door-to-door and send flyers and brochures by mail, marketing can now be done directly online. Today, businesses are listing themselves in both the paper and the virtual yellow books like Yelp and Yellowbook. Online citations, the reference area where people list their business name, address, and phone number, have also increased in popularity especially for those interested in getting their feet wet in the local markets.
And the change does not end with businesses. Customers are changing the way they access to new products and services too. In the days of technology, customers are receiving traditional paper ads as well as email messages, ads, promotions, and coupons from the Internet.
Because more and more customers are going online to read information, research, and make purchases. Businesses today are no longer satisfied with having just an office or a store. Local websites have become the new office for customers to acquire information. As well as the new store for shopping, and the new flyer for spreading the words.
Web Design Houston Cost – Not As Much As You Would Think… If You Find The Right Designer
As Small Business Sense states, "A website is one of the least expensive and easiest tools that can be used to market a small business." It works for you 24/7 and is the perfect way to reach more customers without making any cold calls. With WordPress website design work the same no matter what you nice is. The platform makes it easy to start with geographic targeting and work your way out.
Starting Web Design Houston By Finding The Right CMS
If you are thinking about starting a website. You will need several things like a hosting company, a domain, and a great content management system. Coding, designer, and other web techie stuff can come later. But on the very basic level, you will need to create a domain name and register it. Then you need to find a host like Bluehost or GoDaddy. Lastly, a content management system is a must-have for you to seamlessly manage your content.
Understanding The Value of a Great CMS
You may not have heard of CMS before. As mentioned earlier, CMS stands for content management system. It is a computer application that helps you to control your content from a central interface. This includes giving you a user-friendly platform that allows you to draft, edit, publish, and distribute your content with ease. According to SearchSOA, a CMS encompasses two main applications: the content management application (CMA) and the content delivery application (CDA). It explains, "The CMA element allows the content manager or author, who may not know Hypertext Markup Language (HTML), to manage the creation, modification, and removal of content from a Web site without needing the expertise of a Webmaster."
As a general rule of thumb, a great CMS is one that enables you to manage content without jumping too many techie hurdles. When choosing the right CMS, CMSwire.com humorously compare it to finding a spouse. According to them, "Prospective buyers should look at cultural fit, along with the technological fit." Business owners should evaluate the vendor's professional service and see whether their vision and qualification aligns with their business needs.
Ultimate Web Design Houston CMS
Now that you have been educated with the basics of CMS. You may be scratching your head and wonder where to find a CMS that works for you. If you are interested in an amazing CMS that is easy to use, flexible, and affordable? Look no further than WordPress.
WordPress is a content management system that is perfect for anyone who wants to start a blog or a business website. It has millions of users and enjoys welcoming an average of 50,000 new users every day. Currently powering over 25% of the websites, WordPress offers great customer service around the clock, while providing you an optional premium plan to further your web customization.
Here are some more reasons why WordPress is your perfect CMS:
WordPress Offers a Clean, Organized Interface
Login into WordPress is like login into your email. All you have to do is to sign in with your username and password. Once you are logged in, you will be redirected to your Dashboard, the administrative center of your website. A menu will be displayed on your left so you can easily navigate to your destination.
WordPress Makes Content Management Nice & Simple
Content management on WordPress works very similarly like your typical Word document. If you want to create a new post, click on the "Post" section of the menu. If it's a new web page, just choose "Page" instead. It can't get simpler than this! After you've entered your content creation page. You will have a text section for you to type and edit your content. The familiar customization of bolding, italicizing, and underlying is available at your disposal. You can also add images to your text to make your page or post more attractive. Like your Word document, you can save your content as a draft or publish it right away. There is also a preview button for you to see your content in its published form.
Beautiful Web Design Houston TX WordPress Projects – Fast & Easy
WordPress offers both free and premium templates for you to create an amazing SEO agency website. Templates are pre-programmed web structure that gives you the basic elements a website needs. The templates are called themes and can be easily downloaded into your WordPress file. If you want to have additional features, WordPress also provides a number of great plugins.
Creating a website with the best web design Houston SEO techniques is an important and complex task. WordPress makes everything easy with its great technological advancement and support. WordPress is your ideal CMS because it provides fast 24/7 support, great technological stability and focus, and a friendly community for you to thrive, connect, and grow.