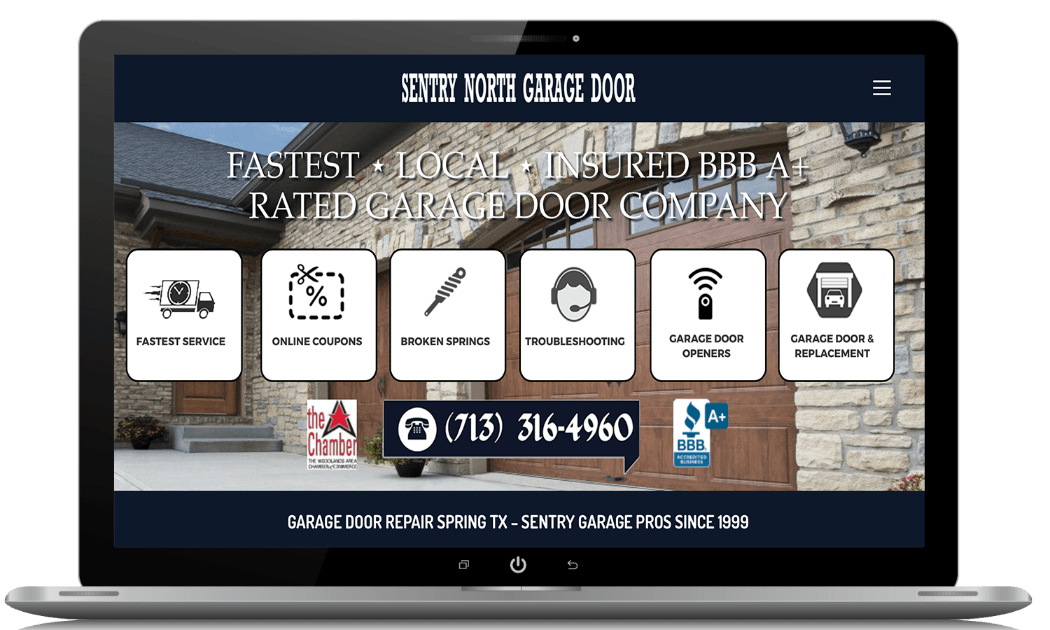 Want to see what it looks like on the web? Do a search for
"commercial garage door the woodlands"
. Or, visit
Sentry Garage Doors
directly.
The ProEngage Local Web Design, SEO, & Marketing Advantage!
Best Local Web Designer Project Details
Sentry North Garage Doors was looking for local web designers in Houston when they found ProEngage. They hired us almost immediately after we provided them with a free estimate and an initial consultation.
About Sentry North Garage Doors
Being in the garage door business since 1999, Sentry is a household name in the North Houston area. As a BBB A+ rated garage door repair company in Spring TX they offer both garage door repair & garage door installation. They had a strong customer base & wanted to put our local web designers to work to help grow it. When we teamed up with Sentry, they had a basic website with somewhat thin content. Back when the site was originally designed, this was enough. But over the years, it wasn't doing any favors to their business. The company wanted us to help them move beyond this, & create a completely new experience for their prospects.
Local Web Designers Project Plan
We started by understanding Sentry's business, & creating a website layout that strongly reflected their experience and authority in the garage door industry. The plan was to create a website to showcase their commitment to their customers. As more and more consumers are turning online to make purchase decisions, they are increasingly using multiple devices to access websites. This is why a mobile-responsive website is no longer a choice; it's a necessity. When re-designing Sentry's website we considered responsiveness to be a key factor.
The Outcome
Built with the buyer in mind, we ensured the website allowed visitors to easily explore the brand's service offerings as well as the history of their business. Some of Sentry's points of difference in the market are that they offer same-day service and that they are a BBB A+ rated company. We highlighted these aspects of their business to help them stand out in the eyes of their prospects. Social media integration was added to further boost customer engagement. Next, we focused on content optimization. We are not just the top local web designers in Houston. We are a full-service agency offering custom copy, content and Houston SEO company services. As such we helped Sentry populate their website with copy and blog content that would help inform visitors, grow credibility and prompt action.